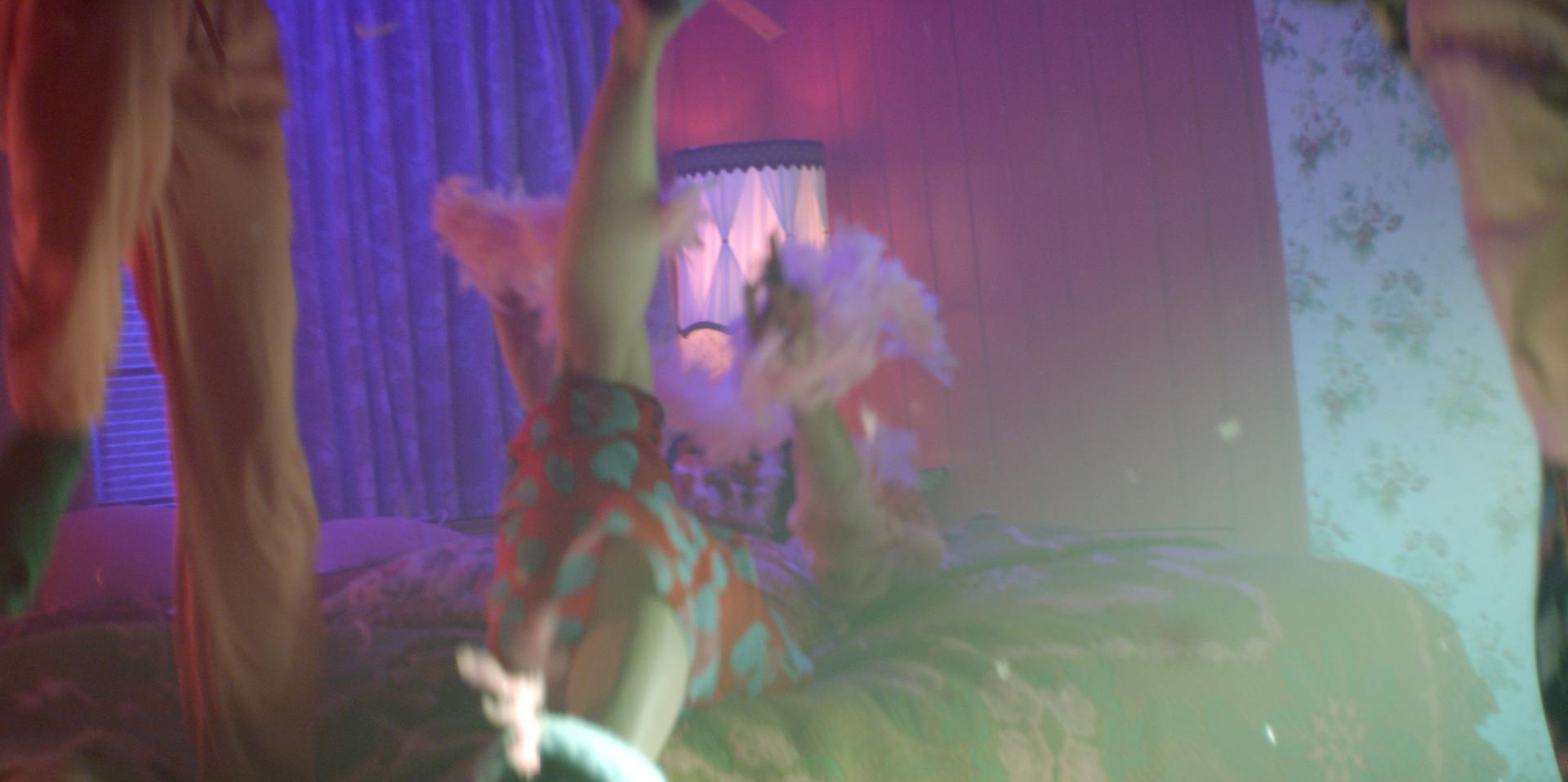 A slumber party gets wild when three girls eat some haunted candy.

Part of the feature-length horror/comedy anthology
Scare Package
, in which each segment takes aim at genre tropes and subgenres of horror.
Girls' Night Out of Body
uses the premise that if a group of girls are hanging out, a killer
will
be following them. In homage to spooky slumber party games, the girls eat a haunted piece of candy, and it becomes a race to see what will get them first — the black-gloved killer stalking them, the evil unlocked from the candy, or any of the other perils that await girls at sleepovers in horror films.
︎
Starring: Gabby Maiden, Melanie Minichino, and Atsuko Okatsuka
Produced by
Ben Fee
,
Narineh Hacopian
, and
Derek Bishé
Special FX by
Russell FX
Other segments directed by Emily Hagins, Chris McInroy, Anthony Cousins, Noah Segan, and Baron Vaughn, with a wraparound by Aaron B. Koontz.
︎

Filmed in San Luis Obispo, California
World Premiere: Sitges International Film Fest
US Premiere: Telluride Horror Show
Released on Shudder June 2020
---
Press

German Premiere at
Final Girls Berlin Film Festival
, Eye for an Eye showcase •
Dread Central
Interview: 'Scare Package' Writers/Directors Courtney and Hillary Andujar •
Nightmarish Conjurings
'Scare Package' Gives Us the Goods •
Bloody Disgusting
FrightFest Halloween Review •
BFI
All your faves have come together to take on the horror genre's creakiest tropes •
Birth.Movies.Death.
A Hilarious and Smart Horror Anthology: Sitges Review •
/Film
'Scare Package' Review •
Nightmarish Conjurings
A Present Worth Opening: Nightmares Film Fest Review •
Dread Central
Shudder's new anthology film pokes fun at horror cliches •
The Spool
'Girls' Night out of Body' serves up a fun twist on the 'unsuspecting girls tracked by stalker' story.

'Scare Package' is a Horror-Comedy Anthology that Really Delivers •
Pajiba
Writers/directors Courtney Andujar and Hillary Andujar deliver a familiar setup: Beautiful young women partying, oblivious to the heavy-breathing offscreen stalker whose voyeurism promises impending violence. However, things take a turn sweet and savage, giving precisely the kind of punch you might crave in a horror short.

Final Girls Berlin Film Fest Review •
MovieJawn