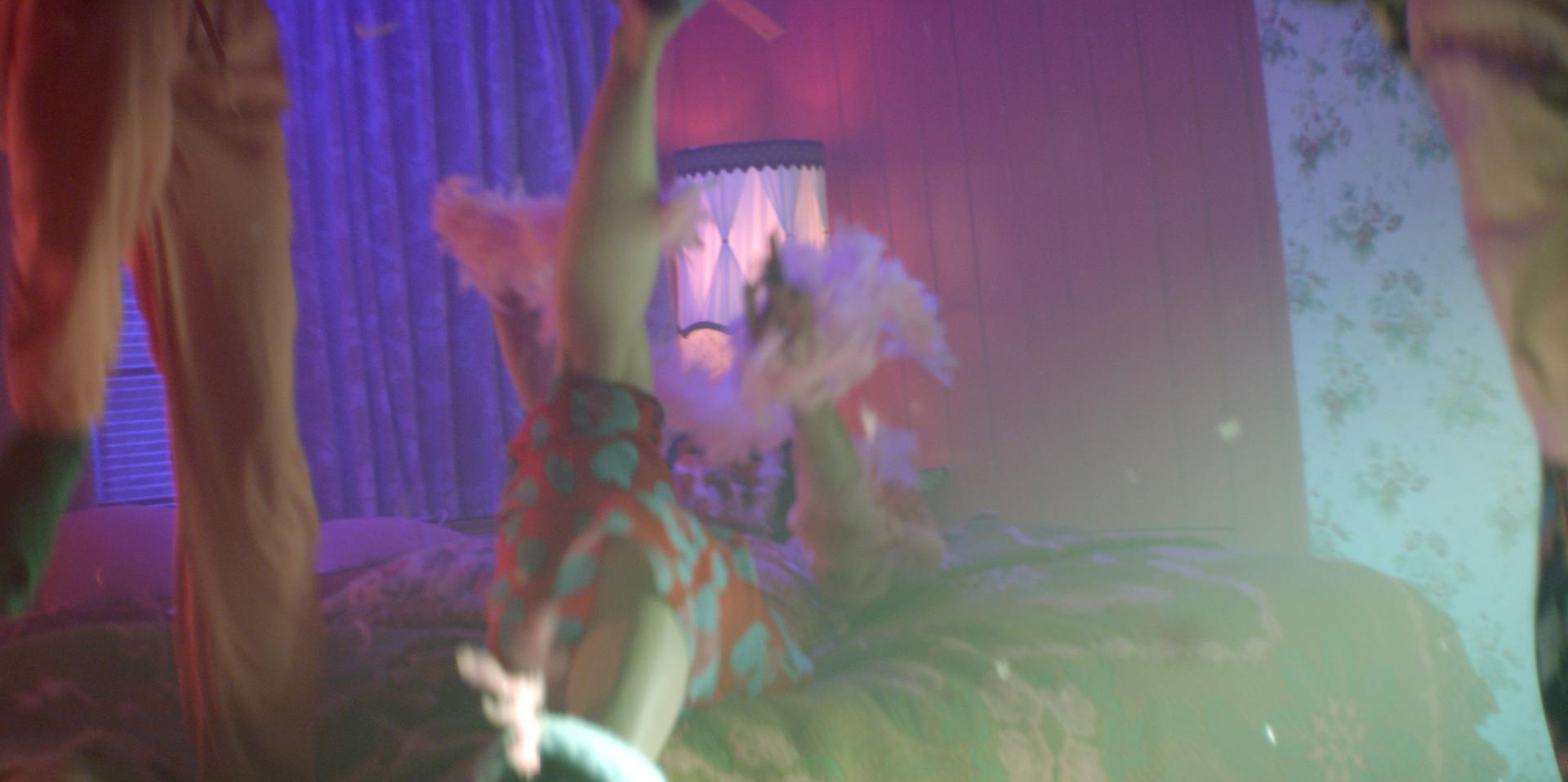 Part of the feature-length horror/comedy anthology
Scare Package
, in which each segment takes aim at genre tropes and subgenres of horror.
Girls' Night
uses the premise that if a group of girls are hanging out, a killer
will
be following them. In homage to spooky slumber party games, the girls eat a haunted piece of candy, and it becomes a race to see what will get them first — the black-gloved killer stalking them, the evil unlocked from the candy, or any of the other perils that await girls at sleepovers in horror films.
Other segments directed by Emily Hagins, Chris McInroy, Anthony Cousins, Noah Segan, and Baron Vaughn, with a wraparound by Aaron B. Koontz.
World Premiere: Sitges International Film Fest

US Premiere: Telluride Horror Show
Released on Shudder June 2020
Press
[Interview] Writers/Directors Courtney and Hillary Andujar for SCARE PACKAGE |
Nightmarish Conjurings
'Scare Package' Gives Us the Goods |
Bloody Disgusting
FrightFest Halloween Review |
BFI
All your faves have come together to take on the horror genre's creakiest tropes |
Birth.Movies.Death.
A Hilarious and Smart Horror Anthology (Sitges Review) |
/Film
Established production designers Courtney and Hillary Andujar make a post-modern feminist slasher body horror that (rightly so) has terrific production design and practical effects.

'Scare Package' Review |
Nightmarish Conjurings
A Present Worth Opening (Nightmares Film Fest Review) |
Dread Central
Shudder's new anthology film pokes fun at horror cliches |
The Spool
"Girls' Night out of Body" serves up a fun twist on the 'unsuspecting girls tracked by stalker' story.

'Scare Package' is a Horror-Comedy Anthology that Really Delivers |
Pajiba
Writers/directors Courtney Andujar and Hillary Andujar deliver a familiar setup: Beautiful young women partying, oblivious to the heavy-breathing offscreen stalker whose voyeurism promises impending violence. However, things take a turn sweet and savage, giving precisely the kind of punch you might crave in a horror short.